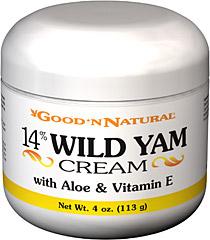 Over 60 years ago Japanese scientists discovered a species of Wild Yam grown in Mexico contained a natural compound called Diosgenin which had remarkably similar properties to Progesterone. Thereafter, Wild Yam has been used in the production of Progesterone and other hormones.

Use this when your on the 30 days off 90 days on cycle from Imperial Gold Maca™ to get you through the waiting time.

Good N' Natural Herbal Body Cream has been developed specifically for women as a natural, soothing alternative to synthetic hormone therapies for helping relieve common Menopausal / PMS symptoms.