SOCCER TEAM WINS BIG WITH MACA


The soccer team of a club little known province of Cuzco to the Peru and called Cienciano, has just won the Cutting South American 2003 that is the version UEFA for the America of the South.

The Cienciano has first beaten the big teams of the Peru then the one in game of Chile, Colombia, Brazil and Argentina. This club is not only a small team, but of more it is composed in his majority of players veterans of more one than 30 years, with notably attacks of 35 and 36 years.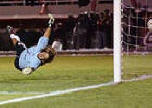 The reasons of this success? A good team work and a big motivation certainly, as well as a good trainer (well that it never won beforehand a national championship). But also the players of the Cienciano consumed Maca for the whole length of the championship and this is that that did the difference. The vétérans ran as the young international stars of the Saints (Brazil) or of the To Fasten Flat (Argentina), and they were very voluntary and very vigilant in the game while not losing qu' an alone left one on 7 games. Never beforehand a Peruvian team had not won an international tournament.

The followed scientific of these players realized by the Laboratory Schuler confirms the works of the Dr Gloria Chacon of the University Cayetano Heredia to Lima. It allowed noting an increase in average of more one than 10% of the physical yield of the players, and in some cases of more one than 30%. On the other hand the more subjective aspects as the alarm state, the concentration and the triumph desire that played a role all also determining in this success could not be taken into account.

The reports of this exploit by the Peruvian press are presented in the following pages. Soccer Team
Information on this site is provided for informational purposes and is not meant to substitute for the advice provided by your own physician or other medical professional. You should not use the information contained herein for diagnosing or treating a health problem or disease, or prescribing any medication. You should read carefully all product packaging. If you have or suspect that you have a medical problem, promptly contact your health care provider. Copyright and disclaimer ©2003-2012 Macaperu.com All rights reserved.

Information and statements regarding dietary supplements have not been evaluated by the Food and Drug Administration and are not intended to diagnose, treat, cure, or prevent any disease.
Copyright © 2003-2012 Macaperu.com. All Rights Reserved.
A Division of A Healthy Alternative, LLC
To translate our web pages to, Français, German, Italiano, Japanese, Korean, Chinese Portuguese or Español, copy/paste the text in the translator box at http://babelfish.altavista.com